Here in the arguably-most-isolated city on earth, Perth, we are actually closer to Bali, Indonesia, than to the next Australian city.
(I promise that's actually true: Bali is just over 2,600km away, and Adelaide is nearly 2,700km from Perth. There is really very little of anything in between.)
For that reason – and of course the fact that the cost of living (and visiting) in Bali is way cheaper than in Australia, a huge number of Perth people fly to Bali every year. Some of them go multiple times in a year! And it is reasonably rare to find Perth people who have never been to Bali**. I'm one of them at the moment, but that's about to change.
(Spoiler alert: click through here and you'll find out what I really thought of Bali!)
Why haven't I been to Bali before?
In the past, Bali hasn't been a destination that particularly excited me. My impression is that a lot of people go there to sit in a resort hotel and drink cocktails at the pool or just drink anywhere! Obviously, that's a total generalisation and exaggeration, but in general the idea of going somewhere and doing kind of nothing is not really my thing. I like to travel, not to have a holiday, I guess.
On top of that, I've always thought that Bali is somewhere I can go any time, because it's so close. I realised when I filled out the "where have I been" map below that the vast majority of my travelling has been done in the northern hemisphere. I know that when I lived in Japan, for example, I could have also taken some trips to places like Thailand and Indonesia but I knew that I could easily and relatively cheaply get there when I lived back in Perth again, so I took side trips to places like Korea and Taiwan instead.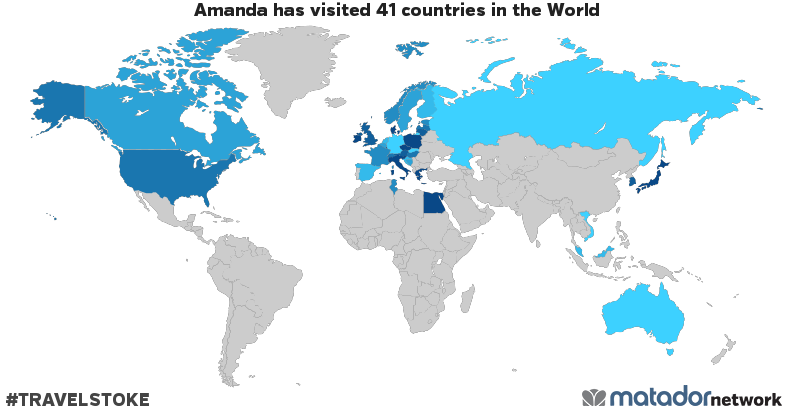 Amanda has been to: Australia, Austria, Belgium, Bosnia and Herzegovina, Canada, Croatia, Czech Republic, Denmark, Egypt, Estonia, Finland, France, Germany, Greece, Hong Kong, Hungary, Ireland, Italy, Japan, Latvia, Liechtenstein, Lithuania, Luxembourg, Malaysia, Netherlands, Norway, Poland, Russia, Singapore, Slovakia, Slovenia, South Korea, Spain, Sweden, Switzerland, Taiwan, Tunisia, United Kingdom, United States, Vatican, Vietnam. Get your own travel map from Matador Network.
And to be honest, the third reason I haven't got to Bali yet is I'm a bit stubborn! I have been a bit weirdly proud that I've never been. But that's probably being a bit snobby, right? Lots of people tell me there are all different sides to Bali and my sterotype of the drunken Aussies is only a small part of it. And quite a few people have told me that as a travel blogger who's based in Perth, it seems quite wrong that I haven't been to Bali. So I am changing my mind.
Planning for my upcoming Bali trip
The long (LONG!) summer school holidays are almost upon me again. Last time – my first time as a mother of a school-aged child – I made the most of them by spending a fortnight in Penang. That helped the endlessness of the holidays go by rather quickly. In the October school holidays I noticed how much my son missed the structure of school after just two weeks, and I have been wondering (and worrying!) how we would get through the six weeks of summer holidays (a lot of swimming for one, but …). What I also remembered is that my son *never* gets cranky when we travel – he loves to be somewhere new (as long as I'm there too!).
So I had been thinking of some low budget and fun trips that we could take … and then a lovely lady from the new Marriott Courtyard in Seminyak, Bali got in touch with me, offering a sponsorship deal. Bali, I thought. Could I really do it? I asked the two friends I saw that day if they'd been to Bali. J said she'd never been. But that her sister went regularly. D said she'd been once for a wedding and wasn't planning to go back. But that her sister liked it! (At this point, I thought it would help if I was friends with my friends' sisters instead of them. Weird, hey?)
Long story short: I'm still a bit nervous, but I suspect that like 99.9% of places I've ever been, I will probably have a brilliant time. (There was that one time when I didn't think much of the Gold Coast. But even that redeemed itself the following year!).
Your tips for my Bali visit
So dear readers, you need to help me out here. You know the kind of traveller I am and you know I'm not going to spend my whole week in Bali shopping or sunbathing at the beach. I'll be based in Seminyak with my husband and four-year-old son, so what should we do to fall in love with Bali? All tips extremely gratefully received!
Disclaimer: This post and parts of my upcoming trip are sponsored by the Courtyard Bali Seminyak by Marriott. But you know me: I will always tell it like it is.
Image credits:  Jason Paris,  Alexander Zykov & Simon_Sees
**I've always felt like everyone in Perth has been to Bali except me. But when I surveyed on the blog Facebook page it turned out my Perth audience is a bit skewed. Of over 50 people who responded, only about half of them had been to Bali – although most of them are well-travelled. Interesting …